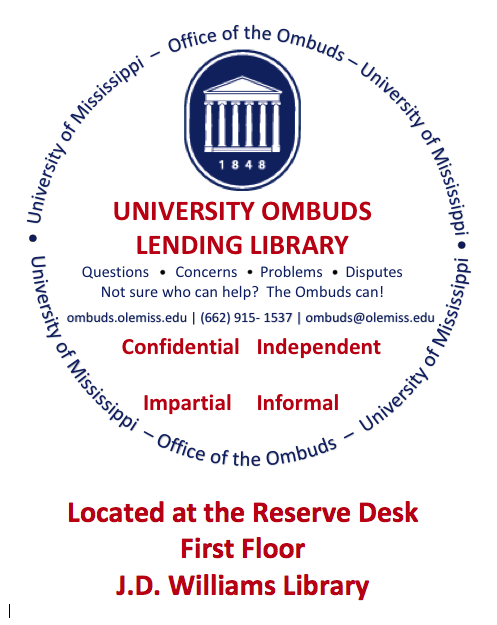 Click the logo above to visit the full Ombuds Library catalog
Library Resources

The Office of the Ombuds has established a lending library of eBooks and physical books housed at the J.D. Williams Library on the Oxford campus. These resources are available for checkout by faculty, staff, and graduate students. The physical books are available for checkout through the Reserve Desk on the first floor of the J.D. Williams Library. The Ombuds Library Catalog provides the most-current listing of both physical and eBooks in the Ombuds Lending Library. The physical books held at the Reserve Desk may be sorted by author or title.
In addition to these resources, the Office of the Ombuds has identified some additional books housed within the UM Libraries' general collection that may provide members of the University of Mississippi Community with insights, tools, skills, or approaches for addressing campus concerns and helping us all live up to the ideals set forth in the Creed. Links to those books are provided below.
Of course, whether before, during, or after you consult any of these publications, the University Ombuds is always available to talk.
University Ombuds Lending Library

UM Library General Collection Resources


Title
Author(s)
ISBN & ASIN Numbers
UM Libraries

Call Number &

Location

Getting Things Done: The Art of Stress-Free Productivity
Allen, David
ISBN-10: 0143126563

ISBN-13: 978-0143126560

BF637.T5A45

MAIN LIBRARY

Leadership and Self-Deception: Getting out of the Box
Arbinger Institute
ISBN-10: 1576759776

ISBN-13: 978-1576759776

HD57.7.L4315 2000

MAIN LIBRARY

eBook

5 Copies


Communicate With Confidence! How To Say It Right The First Time and Every Time
Booher, Dianna
ASIN: B010BBALB0
HF5718.B654 1994

MAIN LIBRARY


Dealing with People You Can't Stand
Brinkman, Rick and Kirschner, Rick
ISBN-10: 0071785728

ISBN-13: 978-0071785723

HM132.B7426 1994

MAIN LIBRARY

The Courageous Follower: Standing Up to & for Our Leaders
Chaleff, Ira
ISBN-13: 978-1605092737

ISBN-10: 1605092738

eBook

Unlimited Institutional Access

Academic administrator's guide to conflict resolution
Cheldelin, Sandra
ISBN-13: 978-0787960537

ISBN-10: 0787960535

LB2331.68.C54 2004

MAIN LIBRARY

Resolving Personal and Organizational Conflict
Cloke, Kenneth and Goldsmith, Joan
ISBN-13: 978-0787950606

ISBN-10: 0787950602

HM1126.C56 2000

MAIN LIBRARY

Good to Great: why some companies make the leap … and others don't
Collins, Jim
ASIN: B00MXCC72W
HD57.7.C645 2001

MAIN LIBRARY

Management of the Absurd: paradoxes in leadership
Farson, Richard
ISBN-10: 0684830442

ISBN-13: 978-0684830445

HD31.F273

MAIN LIBRARY

Annex

Effective teamwork: ten steps for technical professions
Goetsch, David L.
ISBN-10 0130485276

ISBN-13: 978-0130485274

HD66.G63 2004

MAIN LIBRARY

Envisioning the Future of Doctoral Education: Preparing Stewards of the Discipline – Carnegie Essays on the Doctorate
Golde, Chris M. and Walker, George E.
ISBN-13: 978-0787982355

ISBN-10: 0787982350

LB2386.G64 2006

MAIN LIBRARY

Bully in the Ivory Tower: How Aggression and Incivility Erode American Higher Education
Hollis, Leah P.
ISBN-10: 0988478226

ISBN-13: 978-0988478220

LB2331.67.B85H65

MAIN LIBRARY

Leading Change
Kotter, John P.
ISBN-10: 1422186431

ISBN-13: 978-1422186435

HD58.8.K65

MAIN LIBRARY

eBook

5 Copies

Negotiating at an Uneven Table: Developing Moral Courage in Resolving Our Conflicts
Kritek, Phyllis Beck
ISBN-13: 978-0787959371

ISBN-10: 0787959375

BF637.N4K75 2002
The Five Dysfunctions of a Team: A Leadership Fable
Lencioni, Pat
ISBN-13: 978-8126506750

ISBN-10: 812650675X

HD66.L456

MAIN LIBRARY

Words that Work – It's Not What You Say, It's What People Hear
Luntz, Frank
ISBN-10: 1401309291

ISBN-13: 978-1401309299

PE1431.L87

MAIN LIBRARY

Supervision: A Skill-Building Approach
Lussier, Robert N.
ISBN-13: 978-0256090505

ISBN-10: 0256090505

HF5549.12.L87

MAIN LIBRARY

Emotional Discipline: The Power to Choose How You Feel; 5 Life Changing Steps to Feeling Better Every Day
Manz, Charles C.
ISBN-10: 1576752305

ISBN-13: 978-1576752302

eBook

Unlimited Institutional Access

Drive, The Surprising Truth About What Motivates Us
Pink, Daniel H.
ISBN-10: 1594484805

ISBN-13: 978-1594484803

BF503.P475 2010

MAIN LIBRARY

Resilience: The Science of Mastering Life's Greatest Challenges
Southwick, Steven M. and Southwick, Dennis S.
ISBN-13: 978-0521195638

ISBN-10: 0521195632

BF698.35.R47S68

MAIN LIBRARY

Work and Integrity: The Crisis and Promise of Professionalism in America
Sullivan, William M.
ASIN: B008CM6JTE
BJ1725.S85 2005

MAIN LIBRARY

Intrinsic Motivation at Work: What Really Drives Employee Engagement
Thomas, Kenneth W.
ISBN-10: 1458777510

ISBN-13: 978-1458777515

eBook

1 Copy

Faculty Incivility: The Rise of the Academic Bully Culture and What to Do About It
Twale, Darla J. and  De Luca, Barbara M.
ISBN-13: 978-0470197660

ISBN-10: 0470197668

LB2331.7.T93

MAIN LIBRARY